Personal Care: How do we revitalize a brand to maintain shelf space?
Coty Sally Hansen Beauty Tools and Packaging. 
When Sally Hansen wanted to reinvigorate the beauty tool category, we took a step back and asked, "Who is the modern day beauty consumer?" First, she's savvy – and she doesn't see value in spending a lot of money at beauty salons. She believes she can do-it-better herself. And she wants a brand to understand her personal grooming problems and offer solutions that do what they say.
Equipped with this knowledge, our goal was to answer the needs of a new generation of busy women. For instance, her weekday routine is streamlined. It's all about getting ready and out the door for work. But on the weekends, she invests the time in those once-a-week tasks that keep her balanced and beautiful.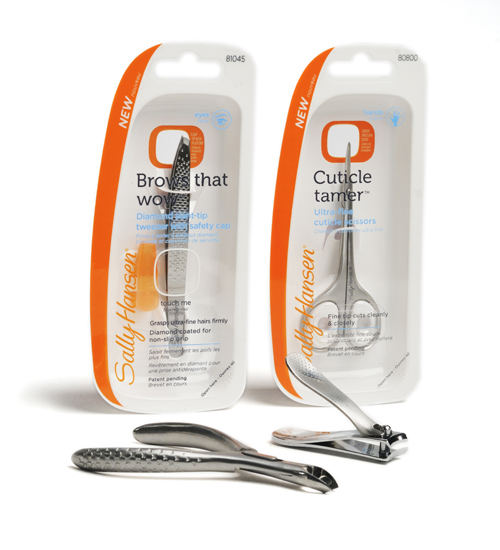 Our strategy to reinvigorate the Sally Hansen Beauty Tools brand began by designing a new line of products including tweezers, scissors, nail file, clippers and nippers, as well redesigning the at-shelf experience via packaging and communication – the full experience was designed holistically – a very effective and efficient way to bring a brand vision to life.
For the beauty tools, we made subtle yet thoughtful innovations to the whole line that consider each moment of the journey to beauty. To win over the home beauty expert, we designed tool grips that are intuitive to use for the best grooming results and tool tip details where precision is an absolute must. The package allows a close to 360º view of the physical product to show the physical product benefits to savvy women, not just say it. Each product has it's own specific benefit, like a steady spring-loaded grip on the eyelash curler, a curved cuticle scissor for a safe, close trim, and a no-mess clipping catcher on the nail clipper. Lastly, to reconnect women to "Sally", we created unique, charming product names and educational, helpful communication that is all about real beauty talk. Some of our favorites are "Eazy Tweezy" and "Bushy Brows Be Gone."
Despite being in limited release, the line sold more than $4 million in its first four months.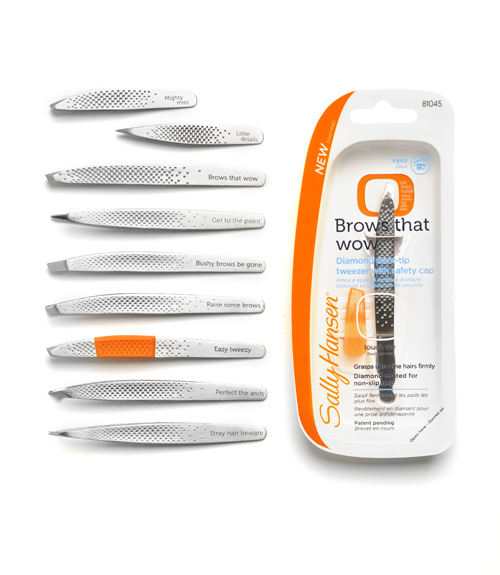 Before and after.